If you're on a desktop computer, hover over the images to see what the initial character design looked like, and if you're on a touch screen device, give them a click!
I start off with all of my images by doing some research into the subject or idea I have in mind. For Example, for the image on the right, I researched different breeds of cow, the type of markings they have and to see how they move and walk.  This gives me an idea of what my character will look and behave, and even give me some ideas for unique features I can add in.
Next, I draw some very rough sketches, designed to let me get a feel for who my character is.  Since Poppy the Cow is a kind, and inquisitive character, I have given her gentle curves, large eyes and eyebrows to aid her expression.
Once this stage is complete, it is on to the final character design! I will usually create 5 or 6 different character designs to fully explore the design and get to know my character better.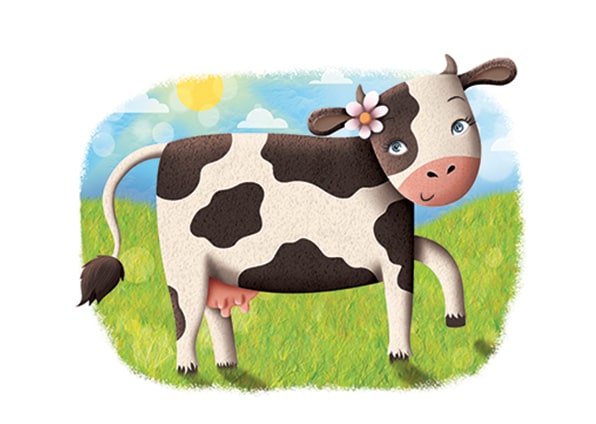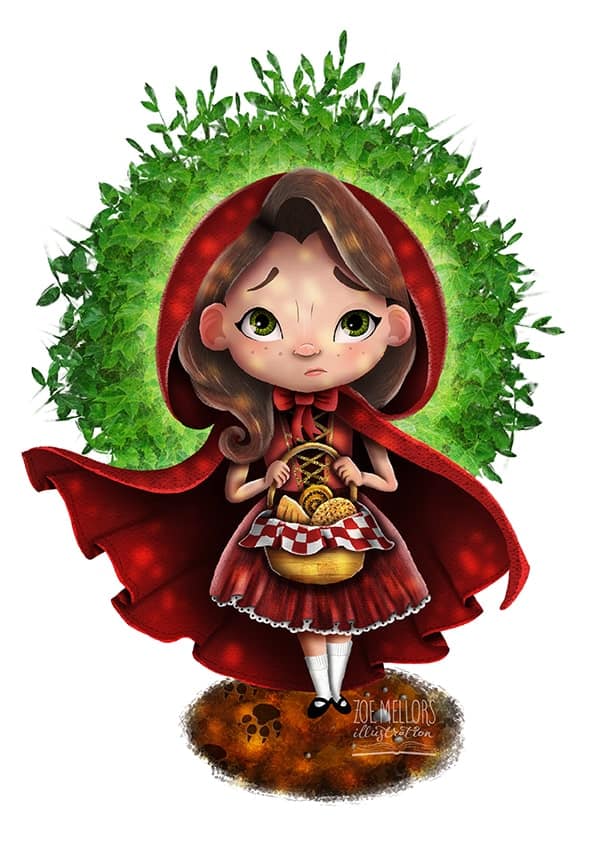 Once I am happy with the design, and it has been approved by my customer, I will start work on the coloured illustration.  I start off by filling the sketch with colour so that my customer can get a feel for the colour palette I have chosen.  Once this has been approved, it's on to the fun bit!
I draw all of my shading, patterns and textures in Adobe Photoshop, using a variety of sources to create my illustrations.  I have created my own set of texture brushes from bricks, hair, burlap and wood to name a few! I also use high-quality pre-designed brushes that imitate paintbrushes and pens.  I feel that this gives my work a textured and handmade quality, stopping the piece from looking too clean-cut and digital.  The process of illustrating a children's book page can take anywhere up to 12 hours to render alone (not including time to design it or block out the colours!) this depends on the number of characters in the scene, as well as the amount of background detail.
The Red Riding Hood illustration shown took approximately 10 hours to complete, from initial concept design to colour test and then final illustration. I have used a leaf texture on the background to give the impression that she is in a forest, used a paintbrush texture to simulate the dirt and fabric textures to render her cloak. I have designed the lighting to look as if the sunbeams are travelling through the leaves to reach her, and have added highlights to make her stand out from the background.
Check out my timelapse videos if you'd like to learn more about my process, or feel free to contact me if you have any questions!