Spring-Paw Jax is officially a competition winner!
I am so excited to say that we have officially been named the winner of the Steamforged Halloween Competition 2020! It was announced on 1st December on the Painting Polygons Facebook page. I'm sorry this has taken so long to update, the team there are working to turn this into a fully fledged and statted character and as soon as that is ready I will share the information here for you to check out!  So you'll soon be able to use this delightful fennec fox necromancer in your next D&D session. I will keep you all updated, and as soon as we get those links through I will share with you all, promise!
So thank you so much to everyone who voted, I am not the proud parent of EVEN MORE miniatures I need to find the time to actually paint (we must have over 100 now that need doing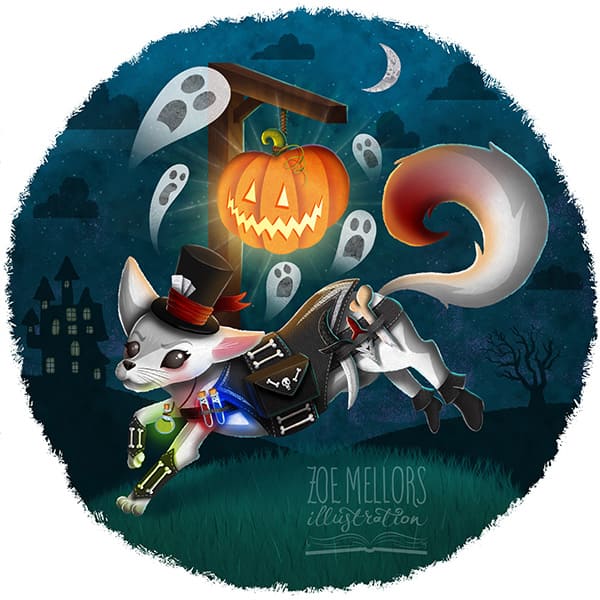 The awesome backstory (written by my super amazing husband)
Spring-Pawed Jax first began as an alchemical healer, brewing potions and salves to cure illness and mend bones. However after his sister fell ill and he failed to save her, he began looking past the veil of death and into the potential of resurrection. Months of necromantic studies and chemical experimentation dyed his fur white, leaving him pallid and sallow. With every step, he saw the potential mapping out in front of him. Turning to the graveyard, Jax began honing his skills as a resurrectionist, stealing bodies and reanimating them. It was only after several attempts that he found the flaw in his system – he could bring back the body, but not the spirit. And so, seeking the final piece to the puzzle, the fennec fox hunts the world for his sister's soul, capturing the spirits of those he kills and raising bodies as his henchmen until he can restore his sister to life.
Check out the steamforged website!
They have loads of amazing miniatures that are perfect for your D&D Adventures. We have many of their different sets, but my personal favourite HAS to be Dungeons and Doggos Set 

 They are so well made and so adorable and I love using them in my campaigns. If you're looking for some awesome miniatures to level up your tabletop game, I'd highly recommend checking them out using the links below.